Air Strippers for water purification
Featured Product from Branch Environmental Corp.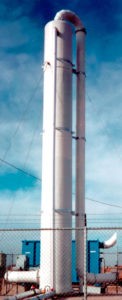 Air Strippers for water purification...
Branch provides custom built Air Stripper units for removal of voc, ammonia, hydrogen sulfide and other volatile components from water. With our experience in complete systems, we can provide you with all of the related components and controls for a trouble free installation.
Standard Profile
The standard counter flow air stripper is designed for flows from 0-910 m3/hr (0-4000 gpm). It can remove volatile and semi-volatile organic compounds including, but not limited to, chlorinated hydrocarbons, BETX, MTBE and others. It has the lowest initial cost and operating cost of any air stripping design.
Depending on the quantity of organics stripped from the water, an integral air treatment system can be provided using our technology with vapor phase carbon, thermal/catalytic oxidizers, or other equipment for removal of the VOCs from the air.
Iron Oxidation - Aeration Systems
The iron aeration unit is designed to totally saturate the inlet water with oxygen. The discharge water is normally sent to a retention tank where final oxidation of the iron occurs.
Branch Environmental supplies custom built pollution control equipment for industry. Our air pollution control equipment can clean up acids, organics, aerosols and mist to meet any emission control standards. Our equipment is also used for water treatment, including removal of volatile organics, ammonia and other gases.