Equipment for gas absorption and removal
Featured Product from Branch Environmental Corp.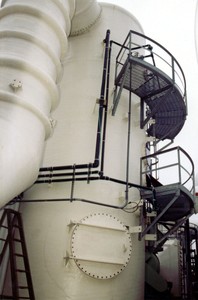 Aeration Columns
Branch designs and builds custom fabricated mass transfer equipment for gas absorption and removal.
The most common types of aeration devices we provide are:
Packed Columns for either absorbing or stripping gases.
Tray Column
In water service applications, air will saturate incoming water as it moves vertically downward through the columns. Volatile gases trapped in the water are released into the air as the water contacts the high surface packing media.
Units can be used with air provided from one of several sources including:
Blowers
Compressed gas
Natural Draft Designs
The basic principle remains the same in all the installations made.
Our countercurrent absorption (aeration) and stripping columns are the most common design used because of the high efficiencies achieved.
Capacities
From small units up to 4 MM GPD (15120 m3/d) have been built in single module construction. Multiple modules have been provided for larger applications.
Materials of construction
Since Branch Environmental custom fabricates individual columns as required, virtually any material of construction can be used for fabrication.
Towers have been built in all of the following:
Fiberglass - using FDA approved resins
Polypropylene
Stainless Steel
Aluminum and coated/lined metal construction.
Branch Environmental supplies custom built pollution control equipment for industry. Our air pollution control equipment can clean up acids, organics, aerosols and mist to meet any emission control standards. Our equipment is also used for water treatment, including removal of volatile organics, ammonia and other gases.