Jet Venturi removes dust & gas simultaneously.
Featured Product from Branch Environmental Corp.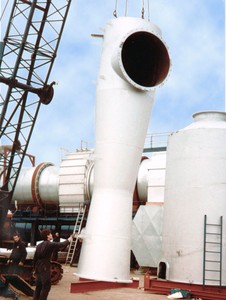 Jet Venturi Scrubbers
Jet Venturi scrubbers can remove dust and gas simultaneously. Their advantage is the ability to handle high concentrations of gases such as Chlorine or other water soluble gases. In many applications, the Jet Venturi can be used without any additional fan.
Jet Venturi scrubbers use the energy from the liquid sprayed into the Venturi to create a pull on the gas drawing it into the scrubber. The gas and liquid are then mixed in both the spray section and in the high velocity Venturi throat.
There are many applications for Jet Venturi scrubbers. One example is emergency systems where a gas leak might occur. The Jet Venturi can rapidly pull the gas eliminating any need for a fan, provide a high liquid recycle rate for good contact with a large amount of vapor. Chlorine emergency scrubbers and ammonia storage emergency scrubbers are examples of this kind of application.
Jet Venturi scrubbers are also used in combination with other designs such as the Packed Tower scrubber to provide a 2 Stage approach where high concentrations of gases are present and a very high efficiency is required. Any Venturi design is limited in contact time. It provides a good initial scrubbing action but may not produce the 99% or even 99.9% efficiency required in many newer regulations. However by using the Jet Venturi, most of the heat and gases can be absorbed first making the Packed Tower design practical and much lower in cost.
All performance levels are guaranteed.
Virtually any material of construction is available including Fiberglass, Stainless Steel, special Alloys, Teflon lining and others.
Complete packages with all components including controls, control panel, fans and pumps for a complete single source responsibility.
Shop fabricated units up to 60,000 cfm / 100,000 m³/h. Larger units are available using field fabricated designs.
Branch Environmental supplies custom built pollution control equipment for industry. Our air pollution control equipment can clean up acids, organics, aerosols and mist to meet any emission control standards. Our equipment is also used for water treatment, including removal of volatile organics, ammonia and other gases.