Packed Towers for Acid Removal
Featured Product from Branch Environmental Corp.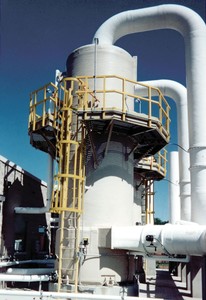 Packed Towers
Packed Towers are used for gas absorption including acid gases such as S02, HCl and others. Packed Towers can also absorb solvents such as Alcohol and gases such as Ammonia. Almost any water soluble chemical can be removed from the gas using a Packed Tower.
Packed Towers can also be used to remove trace quantities such as removing odors including Hydrogen Sulfide.
This type of scrubber can also be used for cooling gas, aeration and any other application where transferring from a gas to a liquid is required.
Branch scrubbers are custom designed to fit your specific application.
All performance levels are guaranteed.
Virtually any material of construction is available.
Complete packages with all components including controls, control panel, fans and pumps for a complete single source responsibility.
Shop fabricated units up to 50,000 cfm / 8,500 m3/h. Larger units are available using field fabricated designs.
Branch Environmental supplies custom built pollution control equipment for industry. Our air pollution control equipment can clean up acids, organics, aerosols and mist to meet any emission control standards. Our equipment is also used for water treatment, including removal of volatile organics, ammonia and other gases.