Steam stripping for removal of organics
Featured Product from Branch Environmental Corp.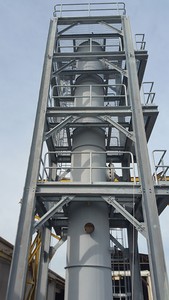 Steam Stripping
Steam stripping systems are available for removal of organics such as Benzene as well as dissolved gases such as Ammonia. Steam stripping involves the same type of technologies used in our Air Strippers. Because of the higher operating pressures normally used, the random tower packing is replaced with trays. The tray designs are especially helpful in some refinery applications where accumulation of tars or other materials can occur and the trays are much easier to clean. While the pressure drop is significantly higher, it is negligible compared to operating at a pressure of 15 – 30 psig (1 – 2 Bar g) for example.
Most steam stripping systems are built in accordance with ASME Code Section VIII Division 1 although other standards can be provided including an EU stamp. Where complete packages are required, Branch can provide all the necessary heat exchangers, stripper, pumps, controls and other components for a complete operating system.
Branch Environmental supplies custom built pollution control equipment for industry. Our air pollution control equipment can clean up acids, organics, aerosols and mist to meet any emission control standards. Our equipment is also used for water treatment, including removal of volatile organics, ammonia and other gases.