What are Venturi scrubbers?
Featured Product from Branch Environmental Corp.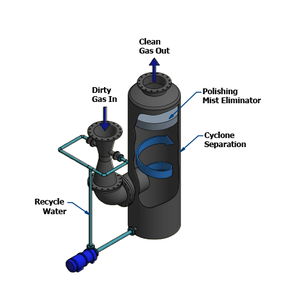 HE Venturi Scrubbers
Venturi scrubbers are used to remove very small particles; mist and can also remove gases. The open design eliminates opportunities for the solids buildup and minimizes maintenance.
Particles down to and including submicron sizes can be captured.
Venturi scrubbers can also absorb gases such as Sulfur Dioxide or others that react with neutralizing chemicals. The scrubber can handle high temperature gases and variable gas rates by use of an adjustable throat design.
Branch Environmental supplies custom built pollution control equipment for industry. Our air pollution control equipment can clean up acids, organics, aerosols and mist to meet any emission control standards. Our equipment is also used for water treatment, including removal of volatile organics, ammonia and other gases.