Custom Air Cylinders
Featured Product from Branham, W.C. Inc.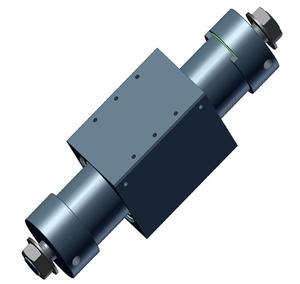 More Choices. Greater Savings.
When you need pneumatic actuators look no further as W.C. Branham has designed and manufactured a wide range of popular rodless cylinders that can be integrated into endless industrial automation applications. It's an even money bet that we have more than one solution for your application depending on your budget.
You can decide which is right for you!
* MAGTEC® Magnetically Coupled Rodless Cylinders 1, 1.5, 2, 2.5 inch bore sizes.
* pneU-SA® [noo-es-ey] Rodless Enclosed Cable Cylinders 25 and 44mm (1.75 in.) bore sizes.
* Rodless Cable Cylinders 1/2, 3/4, 1, 1.5, 2, 2.5, 3, 4 and 5 inch bore sizes. Interchangeable with T-O-M Brand.
W.C. Branham Inc. builds most of its' pneumatic actuators with stroke lengths from just a few inches upward to 23.5 feet standard and as long as 44 feet with rodless cable cylinders.
Space Savings.
All of our pneumatic actuators stroke along the body length to reduce space which equates to a smaller machine footprint. Up to 50% more space savings than traditional cylinders.
Industrial uses.
Textile machinery | Corrugated paper splicers | Cage washers | Packaging machinery | Printing machinery | Car wash systems | Shrink wrapping | Silk screening | Bottling systems | Material transfers | Automotive assembly | Gate openers | Part elevators | Animated displays | Safety systems
----------
8/28/15 --- RECEIVE A 15% DISCOUNT ON YOUR ORDER BY SIMPLY TELLING US YOU SAW W.C. BRANHAM INC. ON GLOBALSPEC. Enjoy your special discount now through 12/31/15*
W.C. Branham Inc. is a leading fluid power and power transmission manufacturing company, with over three decades of industry experience. We are always on the move providing innovative, quality and affordable solutions for our clients. That's "Solutions in Motion®."
Manufacturing Pneumatic Actuators (Rodless Cylinders), Right Angle Gearboxes, Caliper Disc Brakes and Pneumatic Overhead Door Operators.
Product lines include: Pneumatic Linear Actuators such as; DURATRK™ Rodless Band Cylinders, MAGTEC® Magnetically Coupled Rodless Cylinders, pneU-SA® Cable Rodless Cylinders, Rodless Cable Cylinders up to 5 inch bores that are interchangeable with T-O-M Brand and aftermarket Cable Cylinder Repair Kits for Industry. Caliper Disc Brakes for a wide range of industrial, wind energy and off-road vehicular applications with hydraulic, pneumatic, mechanical, dual function hydraulic/mechanical, spring applied fail safe pneumatic and hydraulic service. Brake discs in 4 different diameters with a wide selection of hub and disc assemblies. ADD-A-SHAFT® and INSERT-A-SHAFT® brands of Right Angle helical Gear Drives (Gear Boxes) including all stainless steel gearboxes. Industrial interchangeable Spiral Bevel Gear Drives and Worm gear drives as well as DoorTec® overhead pneumatic door opening systems for car washes, car care retail centers, automobile dealerships, fire stations and industrial warehouse distribution centers.
W.C. Branham Inc. welcomes custom applications!
INQUIRE TODAY!
American Owned. American Made.
*15% offer valid through 12/31/15 on your first order placed with W.C. Branham Inc. W.C. Branham reserves the right to terminate the offer at any time.