DoorTec® Overhead Door Operator Kits, Pneumatic
Product Announcement from Branham, W.C. Inc.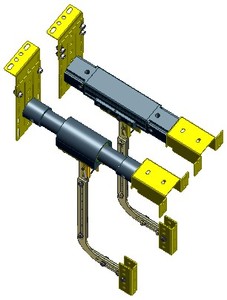 Car Care retail centers like car wash, oil change and automotive tire replacement stores as well as auto dealerships will benefit from DoorTec technology that offers worry-free pneumatic operation and reliability even in cold weather.
Warehouse distribution centers, fire stations as well as Local, State, Federal Government and Military buildings with multiple bay doors, will also benefit from W.C. Branham Inc. DoorTec solutions to pneumatic high rise and low rise door opening systems.
DoorTec® Pneumatic Opening Systems offer a choice of magnetically coupled linear actuators.
Choose the PNEUMAG® series designed around a dual chamber extruded aluminum body which is protected with a Duranodic hardcoat. PNEUMAG features external guiding and load support along the body length.
Choose the MAGTEC® series, with an aluminum round tube body, 1/8 inch wall thickness, and a special finish at 68 Rockwell hardness. MAGTEC is a feature packed door opening solution offering tremendous value.
Both actuators are internally sealed which eliminates the need for a pressurized sealing strip along the length of the actuator body.
DoorTec Jack Shaft Operators, (JSO), featuring PNEUMAG and MAGTEC technology fit where horizontal or vertical space is limited.
Jack Shaft Operators integrate with the overhead door shaft taking a mechanical advantage of the circumference of the cable drum. For example, an eight foot door lift requirement can be achieved with a horizontally or vertically mounted 36 inch stroke Jack Shaft Operator. The smaller footprint of the JSOs not only saves space but reduces the cost per opener significantly.
After deciding on the mounting orientation and which magnetically coupled linear actuator best fits the application, the next step is to choose a system package that includes a mounting kit and a pneumatic control unit (with or without an emergency open capability). Accessory items like sensors are also available from W.C. Branham Inc.
----------
8/28/17 --- RECEIVE A 15% DISCOUNT ON YOUR ORDER BY SIMPLY TELLING US YOU SAW W.C. BRANHAM INC. ON GLOBALSPEC. Enjoy your special discount now through 12/31/17*
W.C. Branham Inc. is a leading fluid power and power transmission manufacturing company, with over three decades of industry experience. We are always on the move providing innovative, quality and affordable solutions for our clients. That's "Solutions in Motion®."
Manufacturing Pneumatic Actuators (Rodless Cylinders), Right Angle Gearboxes, Caliper Disc Brakes and Pneumatic Overhead Door Operators.
Product lines include: Pneumatic Linear Actuators such as; DURATRK™ Rodless Band Cylinders, MAGTEC® Magnetically Coupled Rodless Cylinders, pneU-SA® Cable Rodless Cylinders, Rodless Cable Cylinders up to 5 inch bores that are interchangeable with T-O-M Brand and aftermarket Cable Cylinder Repair Kits for Industry. Caliper Disc Brakes for a wide range of industrial, wind energy and off-road vehicular applications with hydraulic, pneumatic, mechanical, dual function hydraulic/mechanical, spring applied fail safe pneumatic and hydraulic service. Brake discs in 4 different diameters with a wide selection of hub and disc assemblies. ADD-A-SHAFT® and INSERT-A-SHAFT® brands of Right Angle helical Gear Drives (Gear Boxes) including all stainless steel gearboxes. Industrial interchangeable Spiral Bevel Gear Drives and Worm gear drives as well as DoorTec® overhead pneumatic door opening systems for car washes, car care retail centers, automobile dealerships, fire stations and industrial warehouse distribution centers.
W.C. Branham Inc. welcomes custom applications!
INQUIRE TODAY!
American Owned. American Made.
*15% offer valid through 12/31/17 on your first order placed with W.C. Branham Inc. W.C. Branham reserves the right to terminate the offer at any time.
---