Model 1780 18:1 Air/Oil Intensifier
Featured Product from Branham, W.C. Inc.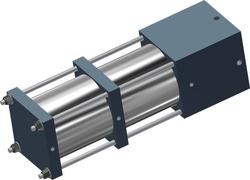 Attributes:
| | |
| --- | --- |
| Hyd Fluid Displacement | 7.068 cu. in. per stroke |
| Max Input Pressure | 100 psi |
| Max Output Pressure | 1800 psi |
| Piston Seal | Quad Seal |
| Construction Tube | Aluminum Hardcoat ID/OD |
| Construction Base | Aluminum Anodized |
| Port Size | 1/8 NPTF |
| Physical Size | 5.0 x 5.0 x 17.259 in. |
Model 1780, 18:1 Air/Oil Intensifier. Use with W.C. Branham hydraulic caliper disc brake H491, H493, H962 series AND hydraulic spring applied FS38, FS47, FS200, FS400, FS500 series.
8/28/17 --- RECEIVE A 15% DISCOUNT ON YOUR ORDER BY SIMPLY TELLING US YOU SAW W.C. BRANHAM INC. ON GLOBALSPEC. Enjoy your special discount now through 12/31/17*
W.C. Branham Inc. is a leading fluid power and power transmission manufacturing company, with over three decades of industry experience. We are always on the move providing innovative, quality and affordable solutions for our clients. That's "Solutions in Motion®."
Manufacturing Pneumatic Actuators (Rodless Cylinders), Right Angle Gearboxes, Caliper Disc Brakes and Pneumatic Overhead Door Operators.
Product lines include: Pneumatic Linear Actuators such as; DURATRK™ Rodless Band Cylinders, MAGTEC® Magnetically Coupled Rodless Cylinders, pneU-SA® Cable Rodless Cylinders, Rodless Cable Cylinders up to 5 inch bores that are interchangeable with T-O-M Brand and aftermarket Cable Cylinder Repair Kits for Industry. Caliper Disc Brakes for a wide range of industrial, wind energy and off-road vehicular applications with hydraulic, pneumatic, mechanical, dual function hydraulic/mechanical, spring applied fail safe pneumatic and hydraulic service. Brake discs in 4 different diameters with a wide selection of hub and disc assemblies. ADD-A-SHAFT® and INSERT-A-SHAFT® brands of Right Angle helical Gear Drives (Gear Boxes) including all stainless steel gearboxes. Industrial interchangeable Spiral Bevel Gear Drives and Worm gear drives as well as DoorTec® overhead pneumatic door opening systems for car washes, car care retail centers, automobile dealerships, fire stations and industrial warehouse distribution centers.
W.C. Branham Inc. welcomes custom applications!
INQUIRE TODAY!
American Owned. American Made.
*15% offer valid through 12/31/17 on your first order placed with W.C. Branham Inc. W.C. Branham reserves the right to terminate the offer at any time.