Standard Rodless Cable Cylinders Pneu/Hyd.
Featured Product from Branham, W.C. Inc.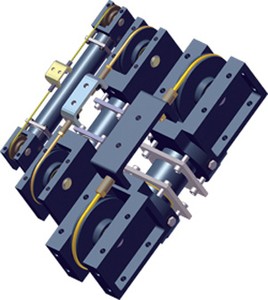 W.C. Branham Inc. manufactures the widest breadth of rodless cable cylinders for the widest range of applications in industry. These series of cable cylinders are available and custom built within 5-7 days of order; Standard and Guided. Each series has unique options and functions giving an OEM design engineer affordable, proven choices for their application.
Cable cylinders are found on textile machinery, paper splicers, cage washers, packaging and printing machinery, silk screening and shrink-wrap systems, articulating arms, counter balancing and door opening and closing mechanisms.
"We continue to improve on the quality and performance of our cable cylinders as well as look for ways to take cost out of the product without sacrificing said quality and performance. An OEM designer or purchasing manager will find our cable cylinders very competitively priced compared to other cable cylinder companies as well as rodless cylinder manufacturers,"says Bill Branham, CEO.
W.C. Branham Inc standard cable cylinders are mounting and most part interchangeable with 90% of all cable cylinders in the field.
Standard Rodless Cable Cylinder Features:
· Best Value at price inch/stroke
· 9 bore sizes from 1/2" to 5"
· Quality manufactured cable seal glands, easy install
· Black anodized aluminum tubing, corrosion resistant
· Moves loads that are externally guided and supported
· Adjustable cushioning standard on 1.5" thru 5" bores
· Fixed orifice cushioning standard on .75 and 1 inch bores
· Mil-spec rated cable providing millions of continuous cylces
· Strokes to 44 feet
· 5:1 saftey factor
· Viton® seals for added performance (optional)
· Automatic cable tensioners (optional)
· Multi-ported head assemblies (optional)
· Hydraulic service rated
· Mounting interchangeable with other brands
· Interchangeable cable and seal kits with other brands
· Low Breakaway configurations (optional - LBA)
· Holding Brake (optional)
· Switches/Sensors (optional)
8/28/15 --- RECEIVE A 15% DISCOUNT ON YOUR ORDER BY SIMPLY TELLING US YOU SAW W.C. BRANHAM INC. ON GLOBALSPEC. Enjoy your special discount now through 12/31/15*
W.C. Branham Inc. is a leading fluid power and power transmission manufacturing company, with over three decades of industry experience. We are always on the move providing innovative, quality and affordable solutions for our clients. That's "Solutions in Motion®."
Manufacturing Pneumatic Actuators (Rodless Cylinders), Right Angle Gearboxes, Caliper Disc Brakes and Pneumatic Overhead Door Operators.
Product lines include: Pneumatic Linear Actuators such as; DURATRK™ Rodless Band Cylinders, MAGTEC® Magnetically Coupled Rodless Cylinders, pneU-SA® Cable Rodless Cylinders, Rodless Cable Cylinders up to 5 inch bores that are interchangeable with T-O-M Brand and aftermarket Cable Cylinder Repair Kits for Industry. Caliper Disc Brakes for a wide range of industrial, wind energy and off-road vehicular applications with hydraulic, pneumatic, mechanical, dual function hydraulic/mechanical, spring applied fail safe pneumatic and hydraulic service. Brake discs in 4 different diameters with a wide selection of hub and disc assemblies. ADD-A-SHAFT® and INSERT-A-SHAFT® brands of Right Angle helical Gear Drives (Gear Boxes) including all stainless steel gearboxes. Industrial interchangeable Spiral Bevel Gear Drives and Worm gear drives as well as DoorTec® overhead pneumatic door opening systems for car washes, car care retail centers, automobile dealerships, fire stations and industrial warehouse distribution centers.
W.C. Branham Inc. welcomes custom applications!
INQUIRE TODAY!
American Owned. American Made.
*15% offer valid through 12/31/15 on your first order placed with W.C. Branham Inc. W.C. Branham reserves the right to terminate the offer at any time.