Precision Deep-Drawn Components
Service Detail from Braxton Manufacturing Co., Inc.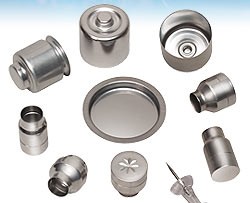 Braxton is an ISO 9001:2008 certified manufacturer of precision deep-drawn eyelets, deep drawn metal enclosures and housings, offering high accuracy and repeatability with tolerances to ±0.0002". We can deep-draw parts to 0.006" (0.15mm) OD, with wall thicknesses as low as 0.0005" (0.013mm). Maximum length is 2" (50.8mm), and length-to-diameter ratios greater than 55:1 are attainable. Finished part tolerances are as low as ±0.00015" (0.004mm), with surface finishes to 10 microinches rms.
Braxton serves the medical, communications, aerospace, specialty automotive and electronics industries, consistently meeting the most unique size, tolerance and finishing requirements of the most challenging applications. Components can be deep drawn from a variety of metals including stainless steel, copper-based alloys, titanium, precious metals and glass-sealing alloys. Slotting, flaring, hole punching and more can be performed on the same production machinery without secondary handling for cost-efficient intricate designs.