Contract Manufacturing
Service Detail from Braxton Manufacturing Co., Inc.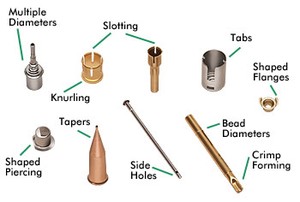 Braxton can deep-draw parts to 0.006" (0.15mm) OD, with wall thicknesses as low as 0.0005" (0.013mm). Maximum length is 2" (50.8mm), and length-to-diameter ratios greater than 55:1 are attainable. Finished part tolerances are as low as ±0.00015" (0.004mm), with surface finishes to 10 microinches rms.
The picture shown is a sampling of the intricate capabilities that make Braxton the logical choice for your deep-drawn part manufacturing needs, including: working with multiple diameters, knurling, slotting, tabs, shaped flanges, bead diameters, crimp forming, side holes, tapers and shaped piercing.
Materials List
Braxton is experienced in drawing a comprehensive range of conventional and special materials, including:
Aluminum
Beryllium Copper
Brass
Bronze
Copper
Gilding
Glass Sealing Alloys 42, 52 and Ni/Fe48
Gold
Inconel
Invar
Kovar
Monel
Nichrome
Nickel
Nickel Silver
Phosphor Bronze
Plated Stock
Platinum
Platinum Iridium
Platinum Rhodium
Silver
Stainless Steel
Titanium
---