EL-FLOW® Prestige with EtherNet/IP interface
Featured Product from Bronkhorst USA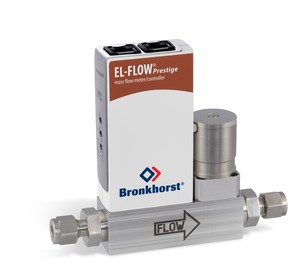 ETHERNET/IP™
EtherNet/IP™ (Ethernet Industrial Protocol) is designed for use in industrial environments and time-critical applications. EtherNet/IP™, first presented by the ODVA (Open Device Vendor Association) in the year 2000, is an open communication protocol that adapts CIP (Common Industrial Protocol) to the standard Ethernet. Bronkhorst® Mass Flow Meters/Controllers are in compliance with the EtherNet/IP™ specifications and regulations.
Characteristics
+15 or +24 Vdc power supply
Standard EtherNet cabling
Network topology: tree, star, ring and daisy-chain
Baud rates from 10 Mbps, 100 Mbps and 1 Gbps
Communication method: Master/Slave
Max. nodes: unlimited
Bronkhorst Worldwide
We develop and manufacture smart, sustainable and customer-specific low flow fluidics handling solutions from our vibrant base in the Netherlands. Our precise and reliable mass flow meters and controllers for liquids and gases find their way in laboratories, test-benches, machinery and a wide variety of industries.