Steady Actuation Pressure More Accurate Dosage!
Product Announcement from AMETEK Brookfield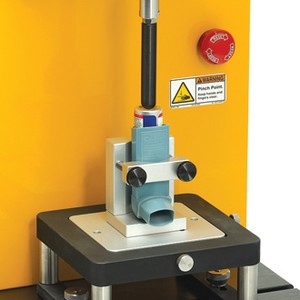 In addition to valuable QC testing, the TA-MDI can be used by manufacturers
to establish new benchmarks when the inhaler mechanism/container changes or when there is a change in formula.
The Brookfield CT3 Analyzer is the best value in a stand-alone instrument for physical testing. It combines simplicity of operation with expanded test method capability and operates in both compression and tension modes. Brookfield offers over a dozen test fixtures specifically designed for customers in the pharmaceutical and cosmetics industries and is constantly developing new accessories in response to customer needs.
TexturePro CT software enables the operator to automate their test procedures and generate valuable analytical data.
For additional information about Brookfield's CT3 Texture Tester and the TA-MDI Meter Dose Inhaler Fixture, visit www.brookfieldengineering.com/products/texture-analysis/ct3.asp or call 800.628.8139 or 508.946.6200.
---