AIRCRAFT HYGROMETER
Featured Product from Buck Research Instruments, LLC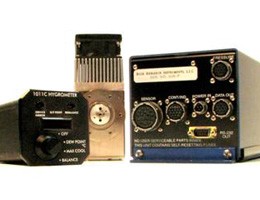 1011C AIRCRAFT HYGROMETER
The 1011C Aircraft Hygrometer is a complete chilled mirror optical dew point system for monitoring atmospheric dew and frost points. It provides three stages of thermoelectric cooling, and can reach frost points as low as -60 to -90 °C, depending on mounting configuration and operating conditions. No auxiliary coolants are required.
Included in the 1011C system are a water excluding inlet probe and a pressure tap for monitoring static pressure. A cockpit digital display with resolution to 0.1 °C is provided, as well as analog and RS-232 outputs for recording. The 1011C is a complete reworking of the 1011B formerly manufactured by Buck Research Instruments under license from General Eastern Instruments.
CR-5 Specifications
Measurement Range
Dew / Frost -60°C to ambient*
Reading Accuracy ±0.1°C
Typical Response Time 10-120 seconds
Operating Range
Temperature -40 to +50 °C
Air / Gas flow range approximately 1 liter/min*
Altitude 0 - 13 km
Cooling Mechanism
Power Requirements
28 VDC @ 60 Watts
Output 0-10V, RS-232
Note: These are approximate specifications. Exact performance will vary depending on installation and operating environment. The right to make technical changes is reserved.
Watch our >>Webinar Now On-Demand:Humidity Measurement FAQ
Key Take-Aways:
Learn important humidity terms and the physics behind them.
Explore examples of the different technologies that can be used for measuring humidity.
Acquire a better understanding of proper sample system design and some of the main causes of measurement error when making humidity measurements.
Understand the importance of leak-checking and proper heat tracing for applications that require them.
Examples of chilled-mirror hygrometer solutions that BRI has provided to its customers
Buck Humidity Calculator for iPhone
The brainchild of Buck Research Instruments, Buck Humidity Calculator is a simple tool that allows you to do humidity calculations and conversions of dew point, mixing ratio, vapor pressure, relative and absolute humidity.
Click here to get the app from the iTunes store!
OUR MISSION To provide the most advanced, accurate and reliable humidity instrumentation available for industrial, laboratory, calibration standard, and airborne use, emphasizing high performance chilled mirror technology
OUR FOCUS Buck Research Instruments specializes in producing High Performance Chilled Mirror Hygrometers that offer fast and accurate measurements while maintaining exceptional reliability inherent only to chilled mirror operating principles.
COMPANY HISTORY Buck Research Instruments was founded in 1989 by Arden Buck, an internationally recognized authority on water vapor measurement, who is credited with major advances in the state of the art and has authored over 30 scientific papers. Buck Research Instruments has continued to develop new and advanced hygrometry instruments with state of the art performance.
FOR OVER TWO DECADES Buck Research Instruments has provided cryogenic hygrometers to NASA and others for use in a variety of high-altitude atmospheric research flights. Our products have been used in the stratosphere, as well as in demanding laboratory and industrial applications around the world.
High Performance Hygrometers for:
Industrial Use
Laboratory Use
Calibration Standard
Airborne Research
BRI specializes in producing high performance chilled mirror hygrometers that are exceptionally fast, accurate, and operate over a very wide humidity range.
We ensure temperature reading accuracy by using ultra-stable mirror temperature sensors that are calibrated against a NIST-traceable reference standard.