Engineeering and Design by Burger and Brown
Service Detail from Burger & Brown Engineering, Inc.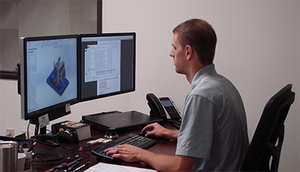 Customers come to us with a wide variety of design challenges from motorcycle part manufacturing to automatic feeding stations for small animals. Our Engineers consult directly with you to meet your design and manufacturing goals. Inside our plant, design and manufacturing engineers work closely together to ensure successful part performance and economical manufacturing practices
We use Solidworks for 3-D modeling and Finite Element Analysis (FEA). FEA allows engineers to locate areas of stress on your parts so design corrections can be made before parts are produced.
Engineering also provides detailed assembly drawings as needed to complete your internal product documentation. Exploded views can be created quickly and easily to support your instructions and assembly. Parts lists are automatically generated to share with purchasing personnel for seamless manufacturing integration.
Prototype services are also available through our Engineering Department. Many material options exist with our Additive Manufacturing or 3D Printing stations. Consult with us for filament selection as new materials are released frequently.
Burger & Brown Engineering is your "Partner in Precision".

Play Engineeering and Design by Burger and Brown Video