Precision Machining & Assembly - On-time Delivery
Service Detail from Burger & Brown Engineering, Inc.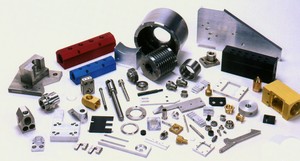 Precision Machining & Assembly with On-time Delivery
Precision CNC Machining
On-time delivery keeps your operation running smoothly.
Programming- your precision machining jobs start with accurate programming. Our skilled programmers create exact machine instructions for CNC machining centers and CNC lathes. Burger & Brown Engineering's integrated machine shop uses computer-aided precision and efficiency from start to finish.
CNC Machining- With all the complications that can turn your manufacturing process into mayhem, delivery of your contract-machined parts should be the last thing you have to worry about. With Burger & Brown Engineering as your manufacturing partner, you won't. We take great pride in our commitment to on-time delivery -- every time.
Our sophisticated job-tracking system helps ensure you always have the parts you need - when you need them. In addition, we can provide inventory services and just-in-time delivery. Plus our central location reduces shipping costs. It all adds up to dependable delivery you can count on ... and production downtime you can eliminate.
Materials- Whatever parts your manufacturing process requires, Burger & Brown Engineering is a valuable resource for precision contract machining of
Steel
Stainless Steel
Tungsten
Titanium
Inconel
Hastelloy
Tool Steels
Aluminum
Brass
Plastics
Sub-assembly services help you complete your production faster.
By taking advantage of our sub-assembly services, you can have several parts machined and assembled before being shipped to your plant for final production. As in all areas of our shop, attention to detail and quality control checkpoints are a priority as your parts are assembled. You can depend on Burger & Brown Engineering to do the job right ... and on time.
Our attention to detail ensures consistent, precise manufacturing.
Quality assurance is a priority of our machining process at Burger & Brown Engineering ... from start to finish. Our highly trained personnel carefully monitor their work for accuracy and keep a watchful eye on production to maintain consistent results. Most importantly, we keep in close communication with the customer throughout the entire process to ensure quality, dependable results. No matter how large or small your order, we guarantee consistent part quality.