Learn How To Optimize Your Cooling Water Usage
Service Detail from Burger & Brown Engineering, Inc.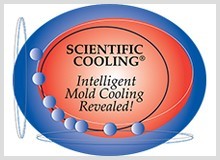 Scientific Cooling® Classes
Injection Mold Cooling can be 70% to 80% of Cycle TimeLearn how to optimize your cooling water usage.
This comprehensive 2-day class is for designers, mold builders, tooling engineers, and mold technicians who want to better understand and control the effects of mold cooling resulting in a more robust mold design, mold build, and molding process.
Participants will learn the tools needed to analyze Heat Energy and the Mold Cooling Management required to produce consistent, profitable parts. Participants will learn to systematically challenge the design of new molds and uncover issues with existing molds through a development of best practices for Mold Cooling Management.
Class materials are developed by Phil Burger, founder of Burger & Brown Engineering.
September 10 & 11 - Bogotá, Colombia (in Spanish)
September 24 & 25 - Brampton ON Canada
Oct 23 & 24 - Traverse City MI - RJG, Inc.
Course Objectives
Learn energy principles in relation to specific polymers.
Understand how Heat Transfer and Energy Flow affect part quality and cycle time.
Apply formulas to solve heat transfer calculations for different materials of molds and parts.
Understand Reynolds Number's relationship to Turbulent Flow.
Learn how Energy and Water Conservation can be supported using heat transfer calculations.
Study the 3 R's of Scientific Cooling to develop and maintain efficient cooling setup and processes.
Where does the biggest impact on cooling occur: Part Design, Mold Design or Processing?
Discover water chemistry's effect on cooling efficiency and why mold maintenance is so important.
Receive an introduction to pump performance curves.
Participate in "Hands-On" activities to reinforce learning objectives.