Cooling Water Line Control for Mfg Processes
Featured Product from Burger & Brown Engineering, Inc.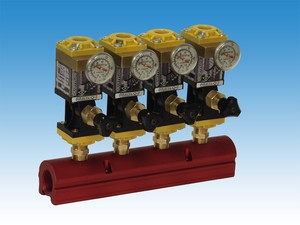 Click to watch Balanced Flow Animation on our YouTube Channel
Click to Download Flow Regulators Catalog
Click to Download Flow Regulator with Tracer Flowmeter Catalog
Delta-Q is a low-cost precision flow regulator module. It can be used with a Smartflow Manifold, mechanical flowmeter, Dr. Eddy meter, Tracer flowmeter or as a stand-alone. Add temperature and pressure gauges as needed to most combinations. The Delta-Q Regulator allows full adjustability of flow volume from unrestricted flow to complete shut off using the manual flow control knob.
Internal components are corrosion-resistant stainless steel for maximum durability. Internal EPDM o-rings are suitable for most liquids. Glass-filled nylon body is rust-proof. Made in the USA.
Sizes available: 1/4", 3/8", 1/2" in Nylon or Brass material
Flow Rates available: 10, 20, 30 LPM and 1.5, 2.5, 8 GPM
Accessories: Temperature Gauge, Pressure Gauge, Quick Disconnect Fittings
On a Smartflow Manifold
Attach an array of Delta-Q modular flow regulators and meters to a Smartflow Manifold and you have economical fingertip control of an entire mold half without moving individual flowmeters from circuit to circuit. Smartflow manifolds save time in mold setups and help molders start making accurate parts quickly.
Features and Benefits
Economical solution for leak-free flow regulation of single or multiple circuits.
Compact size works well in restricted-space locations.
Rugged construction gives years of dependable service.
Variety of inlet sizes provides exactly the right connection.
Optional temperature and pressure gauges give instant access to pressure and temperature information in addition to flow in one unit.
No mounting restrictions ease installation in any position without extra brackets or hardware.
210°F(99°C) temperature rating allows installation into a wide range of applications.