Smartflow Flow Regulators for mold cooling
Featured Product from Burger & Brown Engineering, Inc.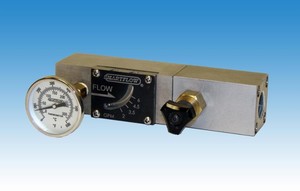 Smartflow High Pressure and Temperature Stainless Steel Flow Regulators are designed for use in hot water or oil cooling systems up to 400°F (204°C) and 150psi (10.3bar).
The Stainless Steel valve seat and high temperature seals provide long, trouble-free service.
These regulators are ideal for connection to temperature control units in an injection molding environment.
1/2" Threaded Connections
400°F (204°C) Maximum Operating Temperature
150psi (10.3bar) Maximum Operating Pressure
Optional Temperature Gauge
Compact size is well-suited to small locations.
Manually control multiple cooling zones on a single temperature controller when assembled on a return manifold.
Rugged construction provides years of dependable service.