Speed up injection mold change times with SMED.
Featured Product from Burger & Brown Engineering, Inc.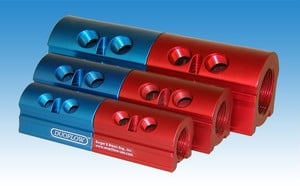 Reduce Water Hook-Up to Single Supply and Return Connections
By mounting small footprint Duoflow® manifolds directly to molds in storage, water connection is simplified exponentially. Molding techs no longer individually connect each water line to the injection mold at the press, maximizing valuable production time.
Duoflow Aluminum Manifolds are divided internally and color-coded red & blue to denote Supply and Return cooling in a compact arrangement. These manifolds have compressed port spacing and are designed for installation on injection molds in storage. By storing molds with water circuits pre-plumbed to the manifold, only one hookup for supply or return is needed. This is one of our Quick Mold Change techniques that save injection molders time and money.
Features and Benefits
3/4", 1", and 1-1/2" inlet sizes (NPT or BSP)
1/4", 3/8" and 1/2" port sizes (NPT or BSP)
Red & Blue Anodized to denote Supply and Return circuits
Common sizes in stock
Custom manifolds made to order
Quick disconnect and hose barb fittings optional for convenience