Inline flow & concentration measure/soft drink prd
Featured Product from Burkert Fluid Control Systems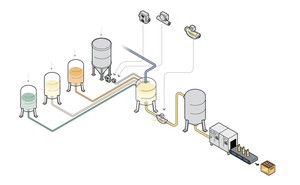 Demanding cleaning processes in soft drink production
Different beverages are often produced in one plant with a mixing system. After each batch process the pipelines are thoroughly flushed with cleaning fluid. This change of media between beverage production and cleaning cycle (CIP) must be reliably identified in the production process. Otherwise, large quantities of rejects can result from unintentional mixture of cleaning agents and product.
Continuous media control in the batch process
The quantities of different media used must also be continuously controlled in ongoing batch processes in order to guarantee consistent taste and the desired product quality.