CAV 4.2 Dual Bath Kinematic Viscometer
Featured Product from CANNON Instrument Company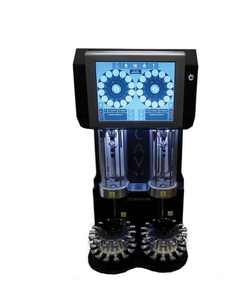 CAV®4.2 DUAL BATH KINEMATIC VISCOMETER
CANNON CAV4.2 is a fully automated, dual-bath, benchtop viscometer with two 14-position sample handlers for unattended D445 processing. Each of the two Ubbelohde-style tubes (one per bath) covers a 100-fold viscosity range between 0.5 mm²/s (cSt) and 10,000 mm²/s (cSt) from 15 °C to 150 °C (with available options).
Conforms to test methods ASTM D445/D446, ISO 3104/3105 and IP 71
CANNON Automated Viscometers
Upgrade your lab with Automated testing
Cannon Instrument Company offers a full line of automated viscometers and rheometers - from portable to benchtop, with applications ranging from petroleum and cosmetics to polymer and asphalt. Increase reliability, save time and money and lower operating costs, all while enjoying the backing of CANNON's world-class technical support.
QUALITY CERTIFICATIONS
ISO 9001:2015 REGISTRATION/CERTIFICATION
CANNON's testing laboratory is ISO 9001:2015 certified through Underwriters Laboratories.
We are ISO 9001 registered for the following products and services:
We are ISO 9001 registered for the following products and services:
3823 (US): Industrial Instruments for Measurement, Display, and Control of Process Variable; and Related Products.
The manufacture and certification of viscosity standards and the viscosity certification of customer-supplied materials.
The provision of calibration services for viscometer and kinematic viscosity thermometers.
Click here to view a copy of our ISO 9001 certificate.
Request to Join CANNON Mailing List
Cannon Instrument Company delivers value to our customers by providing the highest quality instruments, services, and certified reference materials for the characterization of viscosity, rheology and other physical properties. At Cannon Instrument Company, we strive to be the trusted world leader in viscosity and physical property characterization.