DIGITAL VACUUM REGULATORS
Featured Product from CANNON Instrument Company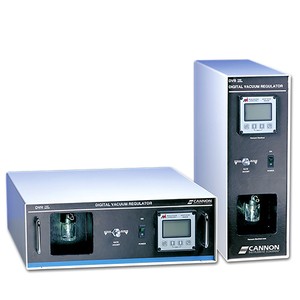 DVR 1000 Series Digital Vacuum Regulators
Solid-State Components—Contains No Mercury
Preset for Vacuum Viscometry per ASTM D 2171
Horizontal or Vertical Configuration
Convenient Keypad Controls
The CANNON DVR 1000 Series Digital Vacuum Regulators are designed for precise measurement and control of vacuum at 300 mm Hg below atmospheric pressure. Unlike other vacuum regulators, the solid-state DVR-1000 and DVR-1500 models use no mercury.
The DVR meter displays the amount of vacuum in mm/Hg or one of nine other units of measurement selected using a keypad on the meter.
In asphalt laboratories the Digital Vacuum Regulator (DVR) may be used in conjunction with Cannon-Manning, Asphalt Institute, and Modified Koppers vacuum viscometers for measurement of highly viscous materials such as asphalt cement at 60°C (140°F) according to ASTM D2171. The DVR is also useful in other laboratory systems where accurate measurement and control of vacuum is required.
Two basic versions of the DVR are available. The DVR-1500 is equipped with an internal vacuum pump and does not require an external vacuum source. The DVR-1000 uses the customer's in-house vacuum system.
The internal set points for the instrument gauge are preset at CANNON to regulate vacuum at 300 ± 0.5 mm Hg below atmospheric pressure (the vacuum required by ASTM D 2171). These set points may be altered to fit the user's specific needs within the DVR's operating range of 28 to 410 mm Hg below atmospheric pressure.
Both the DVR-1000 and DVR-1500 are available in either horizontal or vertical configurations (the horizontal version will support the weight of a constant temperature bath like the CANNON CT-1000 or CT-2000).
The instrument housing is made of durable enameled steel and is supported on non-slip rubber feet.
For additional information read our DVR-1000 bulletin
Follow us on:
Request to Join CANNON Mailing List
CANNON Instrument Company
CANNON Instrument Company has earned international acclaim for the quality of its viscosity-related products and services since its founding in 1938 by scientist, inventor, and educator Dr. Michael R. Cannon. The company's longstanding emphasis on production of premier-quality test equipment has kept CANNON at the cutting-edge of research and development.