INTRODUCING THE CAV® 4.1
Featured Product from CANNON Instrument Company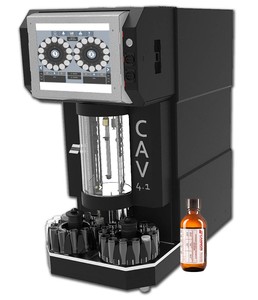 INTRODUCING THE CAV® 4.1
SINGLE BATH KINEMATIC VISCOMETER FOR ASTM D445/446 TESTING OF TRANSPARENT AND OPAQUE LIQUIDS
The CANNON CAV 4.1 is a fully-automated, single bath, benchtop kinematic viscometer with two 14-position sample handlers for unattended ASTM D445/446 testing. Each of the two Ubbelohde-style tubes covers a 100-fold viscosity range at values between 0.5 mm2/s (cSt) and 10,000 mm2/s (cSt) from 40 °C to 150 °C (down to 20 °C requires TE cooling option).

Request to Join CANNON Mailing List
CANNON Instrument Company
CANNON Instrument Company has earned international acclaim for the quality of its viscosity-related products and services since its founding in 1938 by scientist, inventor, and educator Dr. Michael R. Cannon. The company's longstanding emphasis on production of premier-quality test equipment has kept CANNON at the cutting-edge of research and development.
COMMON APPLICATIONS
Formulated oil analysis
Hydraulic oil analysis
Additive analysis
Marine fuel testing
Base stock analysis
Light and heavy fuel testing
Waxes/paraffin
Crude oil testing
Glycols/polyols
Automated vial washing and drying enables reuse, and reduces consumable costs. Simple, out-of-the-box installation with 35% smaller footprint than CAV-2000 series conserves precious bench space. VISCPRO Windows® 10 software application permits one controlling computer for up to four instruments, and enables programming of of user-defined test methods. Automation increases precision. Run multiple predefined/user-defined test methods within the same sample tray. Easily removable dual 14-position sample trays allows high throughput of 28 samples per hour.
LEARN MORE
Specialties:
Automated Viscometers & Rheometers
Viscosity & Flash Point Standards
Constant Temperature Baths
Manual Glass Viscometers
Physical Property Testers
Service & Support
Densitometers
Digital Thermometers