Key features and benefits of the miniAV-X
Featured Product from CANNON Instrument Company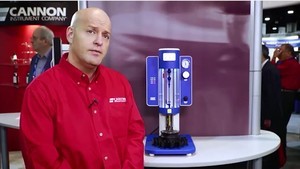 Watch>>>Pat Maggi, president of CANNON Instrument Company, discusses key features and benefits of the miniAV-X automated kinematic viscometer.
miniAV®-X Single-Bath Kinematic Viscometer
For Kinematic Viscosity of Transparent and Opaque Liquids
ASTM D445/D446, ISO 3104/3105, IP 71
miniAV®-X is a fully automated, single-bath, benchtop viscometer with a 10-position sample handler for unattended D445 processing. The Ubbelohde-style tube covers a 100-fold viscosity range between 0.5 mm²/s (cSt) and 6,000 mm²/s (cSt) from 15 °C to 100 °C (with available TE cooler).
Common Applications
Formulated oil analysis
Hydraulic oil analysis
Additive analysis
Marine fuel testing
Base stock analysis
Light and heavy fuel testing
Waxes/paraffin
Crude oil testing
Glycols
Features and Benefits:
D445 precision in a compact, robust design
Temperature range: ambient to 100

 

°C (15

 

°C to 100

 

°C with available TE cooler)
Viscosity range: 0.5

 

mm²/s

 

(cSt) to 6,000

 

mm²/s

 

(cSt)* in 100-fold increments (easily covering the range of 5 separate glass viscometers)
Fits in roughly the same benchtop area as an analytical balance
Optional Peltier cooling is environmentally friendly and requires no external refrigeration
A well tested CANNON viscometer platform offers reliability and dependable support
Fully automated benchtop testing
A fully accessible 10-position sample handler ensures reliable, unattended processing of up to 12 determinations/hour
Automation provides an alternative to labor-intensive manual testing and reduces operator to operator variability
VISCPRO® PC software enables one PC to manage and control up to four instruments
User-configurable reports may be viewed, printed, saved and exported
Reduced consumable costs
ASTM D 446/ISO 3105 Ubbelohde-style tube reduces solvent usage and disposal costs by 50%
Automated vial washing & drying enables reuse and reduces vial consumption
Simplified maintenance & test versatility
Modular bath for easy maintenance access
Operators physically replace tubes in minutes, eliminating the need for related service calls
Single-point temperature calibration avoids tube recalibration costs and maximizes flexibility
Instrument includes standard dual solvent input
At CANNON Instrument Company, we strive to be the trusted world leader in viscosity and physical property characterization. We are passionate about driving our financial growth through:
technological excellence and new product innovations
consistent manufacturing
market diversification
and an obsessive commitment to customer satisfaction