Low Temperature Viscometer with Brookfield® DV2T
Featured Product from CANNON Instrument Company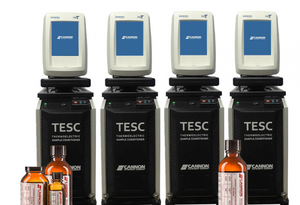 TESC-5133 Low Temperature Viscometer with Brookfield® DV2T
Upgrade and simplify your laboratory testing with CANNON's new TESC-5133 Low Temperature Viscometer for engine lubricants that conforms, and automates, ASTM D5133 testing.
The compact, economical TESC-5133 integrates and automates the ASTM D5133 process of conditioning and testing low temperature viscosities of engine lubricants. Common applications include:
Gear oils
Automatic transmission fluid
Torque and tractor fluids
Industrial and automotive hydraulic oils
Industrial lubricants
Other fluids where low-temperature viscosity is critical

Fully integrated and automated thermal conditioning and testing (-42 °C to 90 °C) provides an automated alternative to ASTM D5133 sample conditioning and testing. This instrument provides superior precision, reduces result variability due to temperature fluctuation and allows for unattended operation.
The cost-effective, ultra-compact design allows for installation of multiple (up to four) TESC systems in a relatively small benchtop area for redundancy and greater test versatility. Configured for use with the Brookfield DV2T viscometer, the unique spindle makes D5133 testing simple and precise. The user-friendly TESC-5133 software records sample temperature and viscosity, and computes the temperature at which there is a rapid change in viscosity, thus providing the Gel Index. It then displays the complex results in a simple, graphical format.
The Peltier cooling is environmentally friendly, and does not require the use of hazardous bath fluids. Learn more today!
Request to Join CANNON Mailing List
CANNON Instrument Company
CANNON Instrument Company has earned international acclaim for the quality of its viscosity-related products and services since its founding in 1938 by scientist, inventor, and educator Dr. Michael R. Cannon. The company's longstanding emphasis on production of premier-quality test equipment has kept CANNON at the cutting-edge of research and development.
Specialties:
Automated Viscometers & Rheometers
Viscosity & Flash Point Standards
Constant Temperature Baths
Manual Glass Viscometers
Physical Property Testers
Service & Support
Densitometers
Digital Thermometers