New Low Cost Wireless Current Data Logger
Featured Product from CAS DataLoggers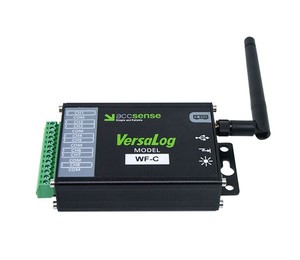 Portable Data Logger Records Current Unattended
If you need a wireless device to measure and monitor current, CAS DataLoggers has the solution with the new WF-C WiFi Current Data Logger from Accsense VersaLog. The VersaLog WF-C is an 8-channel, battery-powered, WiFi-enabled current data logger.
For more information, just call a CAS Applications Engineer at (800) 956-4437 or visit our website at www.dataloggerinc.com.
Accsense VersaLog WF-C Features:
16-bit analog to digital (ADC) converter
8-Megabyte memory size
User-set input ranges
Both USB and WiFi (requires external power) interfaces
Selectable sampling intervals (from 1 second to 12 hours)
10-year battery life
Rugged physical housing ensures industrial operation
Siteview software required (1 license per site) and sold separately
Log Current via WiFi!
Accsense VersaLog data loggers offer a truly flexible solution for data collection in almost any setting. These inexpensive data loggers each commonly feature 7-8 channels with models to log Temperature, Current, Voltage and more.
The new WF-C current logger records eight external current sources and saves data onto its 8MB memory. The 16-bit ADC (analog-to-digital converter) makes it well-suited to science and laboratory applications where precise and accurate measurements are critical. For unattended data collection in 'stand-alone' mode, its aluminum enclosure ensures excellent performance even in the harshest industrial environments.
For remote monitoring applications, the logger's embedded WiFi module allows wireless data monitoring and downloading. Just power the logger in a WiFi-covered area to access it from a PC for configuration, data download, graph viewing, and more.
Choice of Communications:
Accsense VersaLog WiFi data loggers incorporate a standard 802.11 b/g/n interface for wireless network connection when externally powered.
All VersaLog data loggers feature a built-in USB port for quick connection to a PC. This makes for simple configuration and data retrieval.
If you want to use Ethernet for remote network access, our optional USB device server allows multiple Accsense VersaLog loggers to be connected to a single Ethernet port.
For industrial applications, Accsense VersaLog devices also have an auxiliary serial port and two programmable alarm outputs which can be configured with low or high limits to activate an audible alarm, a PLC, etc.
Powerful Software:
Accsense VersaLog Siteview Software is compatible with Windows XP, Vista or Windows 7, 8, and 10. SiteView can be used to configure Accsense VersaLog series loggers, retrieve data, graph measurements, and export data. Its user-friendly graphic interface and full functionality suits both new and advanced users. Additionally, SiteView's versatility of custom equation and custom-line equation can handle complicated measurement requirements.
SiteView also supports viewing of real-time data from any and all connected VersaLog devices. An alarm management tool allows local or email notification of alarm conditions from any connected datalogger.
SiteView Features:
Supports USB, Serial port and Ethernet connections for local and remote access
Fast communication speed--up to 115200 bps--enables quick downloads
Real-time viewing and chart recording replaces paper chart recorders
Zoom in/out and annotation/label of graph functions give a detailed view of data
Multiple file loading makes it easy to compare data
Dynamic statistics provide detailed information for the current zoomed view
Note: SiteView Software is required and sold separately. Limit one license per site, which can be used with multiple data loggers.
For more info on the new Accsense VersaLog WF-C WiFi Current Data Logger, or to find the ideal solution for your application-specific needs, contact a CAS DataLoggers Application Specialist at (800) 956-4437 or visit our website at www.dataloggerinc.com.