dataTaker Goes Wireless with New Series 4 Loggers
Featured Product from CAS DataLoggers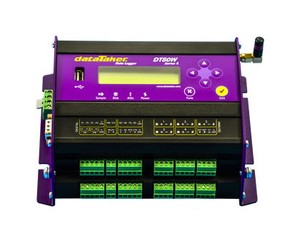 Intelligent Systems Record and Automate Data Collection Over WiFi
Need a wireless way to collect and send data? Bestselling manufacturer dataTaker and partner CAS DataLoggers have partnered to announce the new Series 4 dataTaker data loggers. These next-generation solutions feature Ethernet communications, LCD display, an internal battery, and offer communication options for integrated WiFi and GSM cellular modem! Series 4 features an increased sampling speed, expanded measurement range, and a programmable analog output. All this housed within an industrial-strength, ruggedized design.
New in Series 4:
Integrated WiFi option
Programmable analog output (0-10 Vdc or 0-24 mA); 16-bit DAC (digital-to-analog converter)
dEX Tablet App lets you view real time data from your mobile device
Offline programming interface
Higher sample rate, improved over Series 3—now 40Hz A/D
Input voltage range is now ±50 Vdc
Smart System Automates Data Collection
dataTaker's flexible Universal inputs allow users to configure the analog inputs to accept virtually any type of sensor input—thermocouples, RTDs, DC voltage, 4-20 mA signals, even strain gauge bridges.
Standard computational capabilities include statistical and event-driven data logging and complex math functions which allow the logger to pre-process the data prior to storage and react to alarm thresholds with digital and relay outputs.
Connect to dataTaker data loggers locally, remotely or over the Internet and now via WiFi on selected models. Additionally, the included dEX software can present dashboard displays to any browser which can reach the logger over the LAN.
DT82I Industrial Data Logger:
Up to 6 Analog (± 50V) sensor inputs
8 flexible digital inputs/outputs
Modbus master or slave for SCADA connection
Web & FTP client / server
USB port for easy data and program transfer
The dataTaker DT82I intelligent data logger is ideal for a wide variety of monitoring applications. The DT82I is a stand- alone, low-power data logger featuring 18-bit resolution and a built-in display. The dataTaker DT82I can accept up to 4 isolated or 6 common-ground referenced analog inputs in any combination.
dataTaker allows users to connect an variety of sensors to the analog channels, counter inputs, and two serial sensor inputs. Temperature, voltage, current, resistance, strain gages, frequency, digital, and serial data can all be scaled and logged.
Easy Setup and Configuration:
The dEX software makes it easy to get started logging data. The internal web server allows you to configure your data logger—there's no software to buy or install.
dataTaker dEX has an intuitive graphical interface that allows you to configure your data logger, view real-time data, and retrieve your historical data for analysis.
Accessible by WiFi, Ethernet or USB connection, dEX runs directly from your web browser and can be accessed either locally or remotely. You can view data anywhere a TCP/IP connection is available, including worldwide over the Internet.
User-Friendly Software:
Built-in software—no applications to install
Accessible by WiFi, Ethernet, USB
Intuitive graphical interface
Access live and historical data
View data as charts, mimics and tables
Superior Data Storage and Communications:
With internal memory for up to 10 million data points, you can log as much data as you need. Overwrite or stop logging once the expandable memory is full, archive data on alarm events, or copy to external USB devices or over the network—the choice is yours.
Meanwhile WiFi/FTP/email provides data to your office over the Internet or wireless network without the need for polling or specific host software.
Desktop dEX:
In conjunction with the Series 4 launch, dataTaker is releasing an improved version of its desktop dEX app for Windows, Android and iOS.
Desktop dEX Features:
Windows Standalone Application
Offline configuration editor
Zoom Trend chart and bar charts
Print Trend chart
Network Logger overview
The tablet application is packed with a range of features including:
Manage multiple loggers effectively over the network
Configure your logger from anywhere
Monitor your logger from anywhere
Multi-lingual support
Secure login
For more information on the NEW Series 4 dataTaker family of universal input data loggers, contact a CAS Data Logger Applications Specialist at (800) 956-4437