Times Microwave LMR Cables
Featured Product from CDM Electronics, Inc.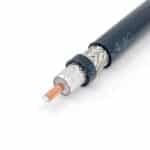 LMR® Low Loss Coaxial Cable
Times Microwave LMR Cables have performance comparable to copper cables, but are non-kinking, extremely flexible and offer easy connector installation. LMR cables are 100% shielded and available in purpose-specific variations, including direct burial, plenum-rated, and low smoke/zero Halogen.
Times Microwave Systems
Times Microwave Systems designs and manufactures high performance coaxial cables, connectors and cable assemblies for military, aerospace, telecommunications, transportation, industrial RF and microwave applications. Times is also the leading source of MIL-C-17 qualified products, holding more QPL's (Qualified Product Listings) than any other manufacturer.
Follow us:
CDM Electronics Inc.
CDM Electronics Inc. is headquartered in Southern New Jersey and operates from an ISO 9001:2015/AS9100D certified 43,000 square foot, state-of-the-art distribution and manufacturing facility. CDM also maintains a 25,000 square foot manufacturing facility in Salisbury, MD, along with a regional sales office and distribution hub in Richardson, TX. CDM specializes in the authorized distribution of interconnect products and manufacturing engineered cable assembly solutions and is a valued partner to the world's best-known military contractors, aircraft manufacturers, communications providers and medical diagnostic equipment leaders. CDM employs a staff of certified assembly technicians, mechanical and electrical engineers, quality and testing technicians, and interconnect industry professionals who all share a customer focus. CDM has a proud history of providing creative and cost-effective solutions to industry leaders for a wide range of interconnect applications.