ULKA Pumps & Electro Valves for Coffee Machines
Featured Product from CEME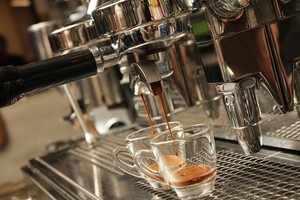 For many years, CEME has been the undisputed reference in the world of coffee.
Thanks to its product line of ULKA pumps, mounted on the best coffee machines for home use, and of electro valves made of food-safe technopolymer and steel, CEME supplies a complete kit of components necessary to control and manage liquids in this application.
The CEME technical team, directly collaborating with the sector's world leader technical departments in the development phase, is able to develop innovative solutions and devoted to the most complex needs.
After water, coffee is the most widely consumed drink in the world: estimated daily world consumption is about 1.6 billion of cups. The way of making coffee changes depending on latitude and habits. Over the years, CEME has put its expertise at the service of clients and final consumers, in order to develop components that can meet a wide variety of needs.
In addition to ULKA pumps and technopolymer valves, CEME developed a complete range of products for professional coffee machines and for the Horeca market, from ruby valves to peripheral pumps and - to complete the range - a family of pressure transducers for coffee application.
The CEME technical team, with twenty-year experience in the sector, is available to costumers for the development of customised solutions.
Download Liquid Dispensing Valve brochure to learn more.