115 mm ID large hole size slip ring
Featured Product from CENO Electronics Technology Co., Ltd.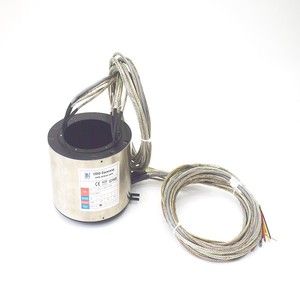 CENO ECN series are through-bore slip rings,the center hole can pass through the drive shaft, gas-liquid passage; it can also integrate high frequency, fiber, encoder, wave guide, gas and liquid and other joints. The use of advanced fiber brush ensures reliable contact under extremely low friction. The center hole is available from 0 to 980mm. The current is from mA to 5000 amps. The voltage can be up to 10000 volts, which can fully meet different needs of transmission.communication systems.Please contact with CENO if you have any special requirements about slip ring.ECN115-06P3-19S-01EM with large inner bore 115mm.Integrated 25 rings of current rating and 1 group 100M Ethernet signal .
Features
Transmit 100M Ethernet
Large inner hole 115mm
Long cable length 1500mm
Stable transmission
Precious metal contacts
Applications
Process control equipment
Motion simulator
Wind turbines
Medical machine
Wrapping machinery
Optional
Through hole size
Current & ring numbers
Signal type
IP protection grade