Air rotary union integrated electric slip rings
Featured Product from CENO Electronics Technology Co., Ltd.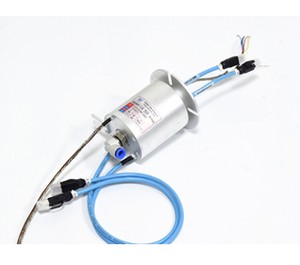 QCN0102-06P1-02EM, is an integrated rotary union with slip rings, which designed by CENO for lithium battery equipment to pass air and electric. This rotary union has 1 road pass air channel. Which interface is straight-through, the interface size with G1/4" and pipe size is Ø 10 mm, and it can withstand pressure > 1 Mpa. There are 6 circuits 5A,1circuit of PE and 2 groups of 100 - Megabyte Ethernet signals in this union. It rotating speed at 0~250RPM under the working temperature of - 40 ? ~ + 80 ? with its characteristic of stable signal transmission, no interference, no error.
Typical application:
Lithium battery equipment
Lithium electric winding machine
Liquid injection machine