Customized slip ring with 55mm inner bore
Featured Product from CENO Electronics Technology Co., Ltd.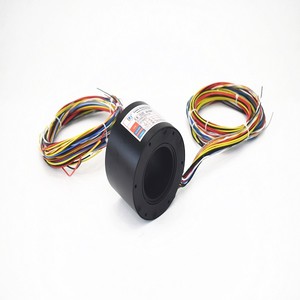 Slip rings of the ECN series have the characteristics of precious metal contact and a long service life up to 230 million turns. Furthermore, they are water-proof, pressure-proof, and vibration resistant. Customizable lead wires and connectors support any plug-in including flying lead.The through bore can be used to routing hydraulic pneumatic passages as it can integrate pneumatic hydraulic rotary joints, high-frequency rotary joints and fiber optic rotary joints to meet more technical challenges.ECN055-03P3-12S is a customized through bore slip ring with 55mm inner bore. ECN series is a family of robust through bore slip rings, with a central hole up to φ980mm, designed and manufactured by CENO with patented technology.
Features
Signal & Data Compatible
Outer diameter 99mm
Long cable length
Shaft mounting
Applications
Medical machine
Robot arms
Radar antennas
Military industry
Packaging machine
Optional
Through hole size
Current & ring numbers
Signal type
IP protection grade
Contacts material