Liquid & air Rotary Union
Featured Product from CENO Electronics Technology Co., Ltd.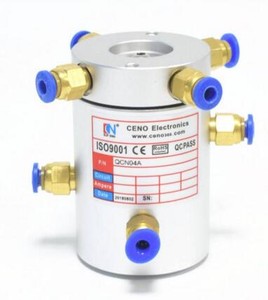 Gas-liquid-rotary union, also known as Gas-electric integrated slipring. CENO specially design gas-liquid slip-ring for certain industries.Gas-liquid-electric hybrid rotary joint can pass gas, such as vacuum, compressed air and other gases;and it could pass the liquid, such as hydraulic oil, coolant, water and other liquids;It can also cross signal networks such as Ethernet, USB, high-definition video, private service motors and various control signals. CENO developed a series of electrical and hydraulic rotary joint products for any equipment which needs to cross gas,hydraulic,oil,etc, meanwhile, it needs to rotate 360 °. The parameter of Gas-liquid Rotary Joint could be optional according to the demand of special industries.It can be used for all kinds of high-tech automation equipment that need to mix and transmit gas-liquid electricity, especially in some humid, seawater and other harsh environments.
Welcome contact with us if you want to detail information on +86-755-2342 0945
Website: http://www.ceno360.com/en/
Address: 3F,Bldg B, XinJianXing industrial park, Lou Cun Feng Xin Rd, Guangming new Dist, ShenZhen, 518107,China