Multi-channel signal capsule swivel connector
Featured Product from CENO Electronics Technology Co., Ltd.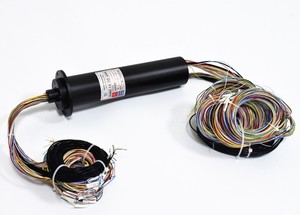 Acn-94s this is a capsule swivel connector from CENO for the lithium industry. It has 94 signal channels, 88 for general signal and 6 for ultrasonic ranging signal.According to the precision requirements of the equipment, the multi-channel signal capsule swivel connector adopts imported material, which is gold to gold with 99.99% reliability.

CENO 's signal transmission technology in slip ring is one of top manufacturer in same industry.This new capsule type multi-channel digital signal swivel connector can be integrated large current, small current, digital signal, analog signal, optical fiber, radio frequency in one.For the convenience of equipment installation, this kind swivel connector selects flange installation method in stator side.

Play Multi-channel signal capsule swivel connector Video