Through Bore Slip Ring With Big Flange
Featured Product from CENO Electronics Technology Co., Ltd.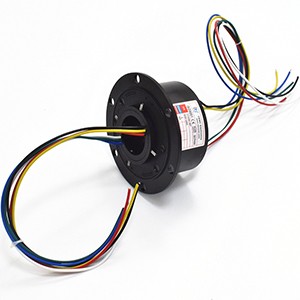 This slip ring has hole 50mm.Belongs to CENO's through hole series slip ring.Its rotation speed is designed at 100rpm to be applied on cement machinery.There is a big flange at rotor side and several holes on the flange for fixing purpose.Compared with our standard through bore slip ring,you can see there is no flange on standard model. In a word,CENO can design and manufacture the slip ring according to your real needs.
Features
•Center hole is easy to install,as well as integrate hydraulic,pneumatic,fiber optical,RF rotary joint
•Low torque, smooth rotation
•Transmit data and analog signal,compatible with data bus protocol
Applications
•Mechanical equipment
•Construction engineering
•Industrial application
•Cement machinery
Optional
•Through hole size
•Circuit number
•Current rating
•IP protection grade
Outline Drawing