Working speed 300 rpm IP65 Waterproof slip ring
Featured Product from CENO Electronics Technology Co., Ltd.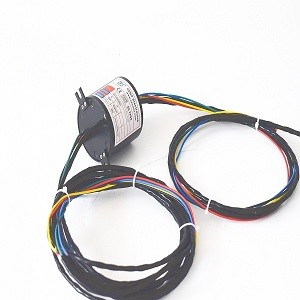 Slip rings of the ECN series have the characteristics of precious metal contacts and a long service life up to 230 million turns. Furthermore, they are water-proof, pressure-proof, and vibration resistant. The through bore can be used to mount the slip ring on a bracket or used for routing hydraulic pneumatic passages as it can integrate pneumatic hydraulic rotary joints, high-frequency rotary joints and fiber optic rotary joints to meet more technical challenges.ECN000-05P2-04S-IP65 is a waterproof slip ring with solid bore,integrated 5 rings of 10A and 1 group of Ether CAT signal.working speed up to 300 rpm.The typical application including food industry,ship offshore equipment,oil drilling etc.CENO can provide different solutions according to customer's requirement,please contact with us sales@ceno360.com.
Features
Power & signal integrated
Waterproof IP65
Stable transmission
Long lifetime
Applications
Marine Population Systems
Underwater robots
Filling equipment
Oil well
Optional
Through hole size
Current & ring numbers
Signal type
IP protection grade
Contacts material