Bravo ST
Featured Product from CE+T Power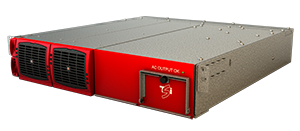 Hot plugable Inverter with automatic by-pass
??Hot plugable inverter module requiring only seconds to be replaced
??Automatic by-pass engagement in case of inverter failure
??Switching back to inverter automatically when the system is ready
Ideal Solution to Arcon ST replacement
??2U high : the Bravo ST will use the same space as the Arcon ST
??Connections : all wiring of an existing Arcon ST installation can be re-used for DCin, ACin, ACout and signalling.
??Alarms : being equipped with the T2S monitoring unit, the Bravo ST features the same alarms as the Arcon ST and more!
Improved Concept : Hot Plugable By-Pass Module
??No need for an external by-pass in case of Automatic By-Pass failure
??By-Pass module can be removed and replaced without shuting down the system