CE+T's Alto : 20kVA Modular Inverter
Featured Product from CE+T Power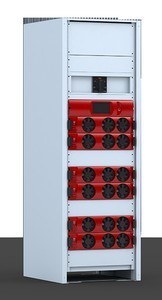 Following a trend in demand for high power AC Backup Solutions, CE+T Power has developed a compact 20 kVA Modular Inverter, called the ALTO.
Description
ALTO is a compact and scalable modular inverter providing a pure sine wave AC supply.
Leveraging the existing DC Power system, it provides an excellent high power AC backup solution. It uses the latest inverter technology, providing superior energy efficiency in a compact size.
The "Twin Sine Innovation" (TSI) technology eliminates all single points of failure with full scalability; up to 32 modules in parallel and high efficiency of up to 96?% reducing operating costs.