Power Supply for Industrial Applications
Featured Product from CE+T Power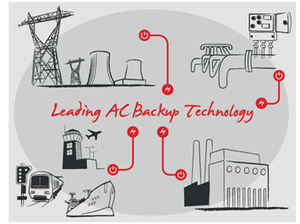 In today's world, no industrial applications (Manufacturing, Oil & Gas, Power Generation, Transportation, ...) can afford to be shutdown or even to suffer of minimal loss of power, be it for safety or economical reasons!
Whether you are looking to secure the power of a rail network's signalization, a pipeline's control stations, an airport's runway or tower, a manufacturing plant's PLC, ... CE+T Power solutions will bring you the required efficiency, availability, scalability and operational flexibility that will ensure leveraged cost optimizations!
In addition, regardless of the type of power present in your infrastructure and the type of power needed to secure your critical loads, CE+T Power's inverters and modular UPS' will bring you the best cost/efficiency ratio on the market without giving up on sturdiness, compactness and scalability.
If you have an existing DC infrastructure, our Industrial Inverters will allow you to leverage it and to feed high quality current to your AC load.
When the Grid is your sole power source, our Industrial Modular UPS solutions will bring you the efficiency and quality you need at an affordable price!
See more at:
http://www.cet-power.com/en/industrial-applications#sthash.vnEXzyRq.dpuf