Veda: 500VA inverter Launched by CE+T
Featured Product from CE+T Power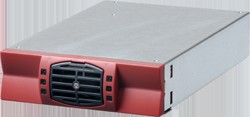 VEDA is a DC/AC offering AC Backup Solution up to 4000VA.
Easy integration in 300, 400 and 600mm depth cabinet.
High operation T° range (up to 65°C)
500VA module offering up to 4000VA Solution
AC distribution included 2 x IEC sockets with 10 Amps
Fuse protection
High power density
IP 20 protection front and rear.
Typical application
Telecom 48V server rack with a few devices needing 230Vac and battery back up.
Capacity : typically between 0,5kVA and 2kVA, but can go up to 16kVA in one cabinet
Specific Technical Caracteristics
Nominal output power / current nx500VA/400W - 2,2A@230VAC per module (n=number of modules)
DC input current 15A max per module
Operating T° -40°C to +65°C full power
Alarm signaling Minor & Major alarm dry contact + LEDs
Effciency DC/AC 89%
Supervision T1S alarm card (LED + dry contacts). T2S optional