New Seal For Ano Alum Eliminates Cr(VI) Emissions
Featured Product from CHEMEON Surface Technology, LLC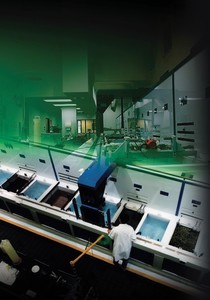 CHEMEON's innovative seal for anodized aluminum eliminates hexavalent chrome emissions.
TCP-HF (Hexavalent Free) and TCP-NP (No Prep) provides a safe MIL-SPEC alternative to Carcinogenic materials such has Hexavalent Chromium, Sodium Dichromate, Dilute Chrome (CrVI). Request the full test data from info@chemeon.com
The Department of Defense and the United States Navy initially developed and tested this product for use in extreme applications. Surpassing over 15,000 test panels, CHEMEON TCP-HF (Hex Free) outperforms existing trivalent and hexavalent alternatives in wear and corrosion resistance (without requiring additional topcoats), while being more economical in cost per application. TCP-HF can be applied in bulk and barrel applications, without damaging the coating integrity, and is versatile enough to be applied over a wide range of materials, including zinc and alloy plating, raw zinc die cast, and aluminum.

Play New Seal For Ano Alum Eliminates Cr(VI) Emissions Video