Cimperial® excellent lubricity extends fluid life
Product Announcement from CIMCOOL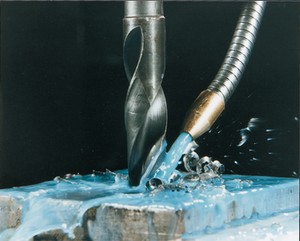 CIMPERIAL® 1072-HFP with FACT™ is a premium CIMCOOL Fluid Technology product that contains a chlorinated EP (extreme pressure) lubricant for heavy duty operations. It is recommended for High Fluid Pressure and High Volume Flow Applications where minimization of foam is critical for part quality and machine operations. It is recommended for general purpose machining of ferrous and most non-ferrous applications. It can be used for turning, drilling, reaming, boring, milling and tapping as well as some grinding operations.
CIMPERIAL® 1072-HFP with FACT™ provides excellent lubricity; extends fluid life with excellent biological control; and helps prevent in-process corrosion on parts and machine components. The combination of effective performance and low maintenance contributes to higher metalworking productivity. CIMCOOL® products-which include metalworking fluids as well as specialty lubricants, cleaners and corrosion inhibitors-are environmentally friendly, and each must pass rigorous standards set by the company's research and development lab before reaching market. CIMCOOL®'s dedication to customer satisfaction begins with its offer of a Free Product Trial.
CIMCOOL® - HFP Fluids with FACT™ Provides superior foam control through the combination of product design, raw material selection and innovative antifoam technology. These fluids are the result of years of experience that have identified creative methods to prevent, control, and reduce foam, even when fluids are used in high pressure delivery systems. This expertise is only available in CIMCOOL® HFP Fluids with FACT.
CORROSION PROTECTION: The oily residue keeps machine tools and work-piece materials free of corrosion and staining. Good on most non-ferrous alloys as well.
MICROBIAL CONTROL: Superior rancidity control if product concentration is properly controlled.
Click Here for a free product trial.
The Company is certified ISO 14001, ISO 9001.
Pink Trade Dress is a registered trademark of Milacron LLC
Milacron Marketing Company LLC
---