MILFORM® synthetic drawing fluid - water-soluble
Product Announcement from CIMCOOL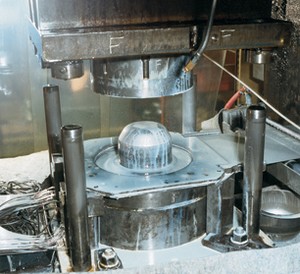 Try MILFORM® Product FREE Trial To Witness First Hand How CIMCOOL® Fluid Technology Can Increase Manufacturing Productivity.
90% of customers who try CIMCOOL, stay with CIMCOOL!
Sign up for your free product trial today at www.cimcool.com/free-trial/
Water-Soluble.
CIMCOOL's MILFORM® water-soluble products are available for a wide variety of metalforming applications, ranging from light-duty stamping to heavy-duty drawing. Clean-operating synthetics are offered for light- to heavy-duty operations. The products are appropriate for both ferrous and non-ferrous metals with exceptional results in synthetic, soluble oil and straight oil applications. The ability to adjust the fluid concentration provides even greater flexibility.
• MILFORM® 6276 A synthetic drawing fluid offers excellent lubricity and multi-metal ability corrosion inhibition. This product has been used successfully to draw ammunition shells without the use of Extreme Pressure Additives.
• MILFORM® 1200 Replace VOC containing vanishing oils with this non-VOC water based, synthetic vanishing oil designed for use in moderate duty drawing, bending, piercing, blanking, and rolling applications of ferrous and nonferrous metals.
• MILFORM® 8050 A synthetic designed for use on ferrous metals for heavy-duty stamping and drawing applications where chlorine is not acceptable. Replaces chlorinated fluids with patented lubrication systems.
As with all CIMCOOL® products, the MILFORM® lines are backed by the CIMCOOL® "no-hassle" performance guarantee and free trial assurance. For additional information on this and other CIMCOOL® products, please visit our website at www.CIMCOOL.com. CIMCOOL® Global Industrial Fluids is a leading global supplier, and is registered to ISO 14001, ISO 9001.
Click Here for a complimentary product trial.
Pink Trade Dress is a registered trademark of Milacron LLC
---