Painting, Powder Coating, Plating, and Polishing
Service Detail from CMF Industries, Inc.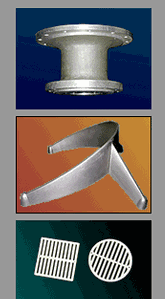 Working in ferrous metals, nonferrous metals and a broad range of plastics, CMF Industries delivers quality parts using the following manufacturing processes:
CASTINGS:
Ferrous and Nonferrous
Sand
Modified Investment
Pure Investment
Die
Permanent Mold
From Ounces to Tons
FORGINGS:
Closed and Open Die
Hot Head
STAMPING
FINE BLANKING

DEEP BLANKING
DEEP DRAWING
INFECTION MOLDED PLASTICS
EXTRUSIONS
FABRICATIONS
MACHINING:
GRINDING
PAINTING, POWDER COATING, PLATING, POLISHING,
ASSEMBLY AND PACKAGING
Wheter you need a 20,000 pound iron machine base from Wisconsin, a thousand five-pound ductile iron frames from Canada or a quarter million half-pound brass die cast and polished grates from Shanghai, CMF is dedicated to meet your requirements delivering "what you want, when you want it and at a competitive price" making the purchaser's job easier and more cost effective. We may ask "Why have you selected that manufacturing method?" Or "can we recommend some cost saving design modifications?" We take pride in our proactive approach... on helping our customers get the most for their money. If we can help in any way to promote our customers's success, we feel it will help our success in return. That is how teams work.
---