CO2Meter Desktop IAQ CO2 Monitor and Data Logger
Featured Product from CO2Meter.com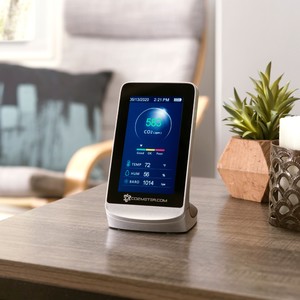 Recognized as a leading source in gas detection, monitoring, and analytical devices, CO2Meter proudly releases its newest Indoor Air Quality (IAQ) device that provides indoor air quality analysis from a sleek, modern desktop design.
CO2Meter Inc., a worldwide manufacturer of high-quality gas detection and monitoring solutions, has recently released a new CO2 indoor air quality (IAQ) monitor designed to better analyze indoor air quality and compare the direct, negative personal health effects over time. With the IAQ-MAX CO2 Monitor and Data Logger users will be able to detect Carbon Dioxide (CO2), Temperature (TEMP), Humidity (HUM), and Barometric Pressure (BARO) all from a modern liquid crystal display (LCD).
The highly anticipated release of the IAQ-MAX will continue to promote awareness of the importance of indoor air quality in home, office, and classroom settings. With the IAQ-MAX desktop CO2 monitor and data logger, users will have a precise tool to measure and analyze the air quality in their personal and professional spaces. Adds, CO2Meter CEO, Travis Lenander, "The IAQ-MAX CO2 Monitor and Data Logger is our best design to date in this highly competitive market and we feel like the design and functionality provide a true competitive edge."
CO2Meter's engineering team created a unique device that combines key components to bring the IAQ-MAX to life. Accurate CO2, temperature, humidity, and barometric pressure sensors are combined with data logging capabilities and a full-color LCD display. These components are encased in a sleek, modern desktop enclosure that makes the IAQ-MAX a welcome accent to any space. "We clearly are recognized in the industry as a leader in gas detection, monitoring, and analytical devices and it is especially fun to bring such a unique, contemporary device to market that helps CO2Meter better service the IAQ market both direct-to-consumer and through our worldwide distribution network", stated CO2Meter VP of Business Development, Joshua Pringle.
Countless studies, like the recent work in (Work in Mind, 2019) have concluded that poor indoor air quality has been linked to lack of commercial employee productivity, poor institutional learning and cognitive abilities, poor consumer comfort and sleep habits, and increased respiratory ailments. By utilizing an indoor air quality monitor like the IAQ-MAX you can eliminate the potential and direct effects from poor IAQ.
"We strive to develop sensors and products that solve a customer's needs. We really do have the ability to "solution sell" at CO2Meter. Devices like the IAQ-Max provide a real solution to a global problem – poor personal air quality. The CO2Meter team values its relationship with the USGBC, ASHRAE, and OSHA in tackling the causes of poor air quality and the solutions coming to market to solve these issues. The MAX is our latest effort to provide a customer-facing solution in the IAQ market" offered CO2Meter VP of Business Development, Josh Pringle.
"CO2Meter has always been viewed as the "go-to source" in gas detection, monitoring solutions, and analytical equipment. We understand and take very seriously the relationships we have developed in dozens of markets and thousands of applications over nearly 15 years. From the first day of the company's existence, indoor air quality was always a primary focus for our team. Today, with the launch of the MAX, CO2Meter will continue to demonstrate our clear commitment, not only to the IAQ market but also to our partners and customers worldwide. We will not rest on our laurels or sit back and let the competition pass us by. We will innovate, educate, and continue to earn the trust and business of our partners and customers with every, single transaction", stated Lenander.
When reflecting on what is happening within our environments and being able to provide an exclusive IAQ solution to mitigate these risks and ensure overall health and well-being, we could not be prouder of the IAQ-MAX and its capabilities and how it will impact the industry.
For more information on the IAQ-MAX CO2 Monitor and Data Logger, please email us at Sales@CO2Meter.com.
Additional IAQ-MAX Features Include:
Large LCD display to show carbon dioxide (CO2), Temperature (Temp), Relative Humidity (HUM), and Barometric Pressure (BARO).
NDIR CO2 Sensor for fast, accurate and precise readings
Visual alarm and 3-color code (Green/Yellow/Red) Indication
Built-in Data Logging capability
Powered by USB cable
Rechargeable Lithium batteries (3 hours max)
Fresh Air, Automatic Calibration
Clean, Modern Desktop Design