Precision Fastening Hardware - what do you need?
Featured Product from CORE Manufacturing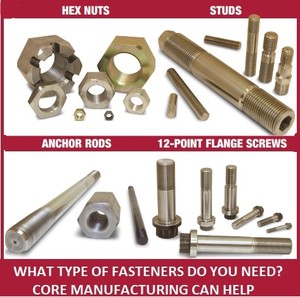 Core Manufacturing provides precision fastening hardware for a variety of industrial and military applications. We also produce domestic anchor rods and optional hardware. Our team brings more than a century of experience and our products are manufactured in accordance with rigorous quality control standards and inspection processes.
We manufacture precision fastening components and metal hardware with high-quality materials with an option for custom finishes.
Core can manufacture and ship most products in three to four weeks, meeting tight deadlines. Turn-around time is based on quantity, testing requirements and coatings.
Anchors & bridge pins to spanner nuts & U-bolts, and many more specialized components.........what type of fasteners do you need?