Difficult Samples? New Viscosity Testing Solution
Featured Product from CSC Scientific Company, Inc.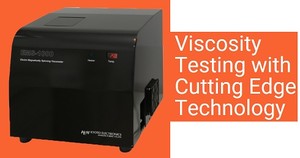 Are your samples toxic, volatile, air sensitive or very small? Do you need to test a high and low temperatures? Electro Magnetic Spinning (EMS) is the viscosity testing method that can meet your needs.
Temperature Control - Built in to the instrument is the capability for temperature control between 0 to 200oC.
Pressure Control - Measurements can be performed at elevated pressures.
Sterile Testing - The EMS-1000 provides a sealed measuring cell, making it possible to accurately measure volatile, toxic, or air-sensitive samples. The tube and sphere are disposable, making for easy, contact-free clean up.
CMOS Camera - Lets you see what's happening to your product during the test, making it easy to observe coagulation or detect impurities.
Measuring Range
with 2mm sphere: 0.1-100,000 cP
with 4.7mm sphere: 10-1,000,000 cP
Small Sample Amount
with 2mm sphere: 300µL
with 4.77mm sphere: 700µL
Surface Tension, Contact Angle and More...
The EMS-1000 is just one instrument in a range of liquid properties analysis equipment offered by CSC Scientific and Scientific Gear.
If you are interested in learning more about the rotational viscometers and texture analyzers in our line, contact us via the links on this page, e mail or call (800) 621-4778