Digital Moisture Balance
Featured Product from CSC Scientific Company, Inc.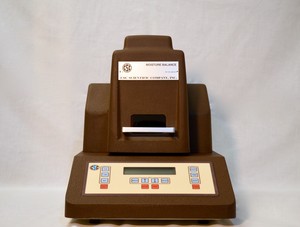 In the world of moisture analyzers, the moisture balances of CSC Scientific have found a special place. Starting with the CENCO Moisture Balance, the first ever direct reading moisture balance, these moisture instruments earned a reputation for being precise,accurate and tough.

They are being used in dusty, cold, humid and just overall nasty places to reliably measure moisture content. The CSC Digital Moisture Balance has been further ruggedized with the incorporation of an almost indestructible precision balance as its main engine. Check out the video "New Engine for the CSC Digital Moisture Balance". It illustrates the kind of abuse this moisture analyzer can absorb.
The instrument can be used for the full range of Loss on Drying moisture measurements. Down load our "Loss on Drying Effectiveness Chart" to see the range of products that can be measured for water content with this technique.
Because of this large array of products that can be can be tested and it's accuracy of +/- 0.2% with a five gram sample (larger samples will result in increased accuracy), the CSC Digital is an outstanding selection for any testing lab.
In addition to the benefits of having one accurate rugged moisture measurement instrument, the CSC Digital Moisture Balance was developed for easy use. The operators have only thee easy steps. They inset an empty sample pan and press a tare button, they load a sample, then press a star button. The rest of the moisture test including shutdown and moisture test analysis recording are automatic.
Specifications:
Three operational modes - 1. Manual 2.Time 3. Automatic
Sample sizes from a few grams to 100 grams
Results to +/- 0.2 % moisture with a 5 gram sample.
Readouts in grams (g) - % moisture - % solids - % dry weight
On-site calibration checks with the included calibration weight
Printer: ready